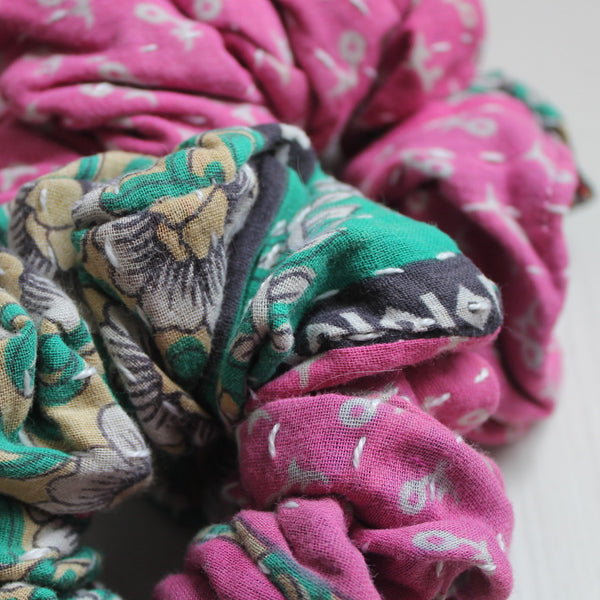 Sambhali Women
Zero Waste Kantha 'Pushpah' Scrunchie
These scrunchies have been created using the offcuts of our latest clothing collection.
Kantha - कण्ठ - kaṇṭha - pronounced 'kahn-tah'
One of the oldest Indian embroidery styles originating in Western Bengal, Odisha + Tripura and Bangladesh. This was a skill done by women; learnt and passed down from grandmothers to mothers to daughters.
It is a technique born out of practicality + usefulness, 'kantha' comes etymologically from the Sanskrit 'Kontha' meaning rags, and was a way to recycle + revive damaged textiles. A practical skill come art form this technique is now prized and practised throughout Asia.
The kantha stitching (the white line running stitch seen here) has been done on secondhand fabrics by talented female artisans in Jaipur, Rajasthan + then passed on to Sambhali, a women's cooperative in Jodhpur, Rajasthan to create jackets. These scrunchies are the result of using up the left over fabrics from this process.  
Each scrunchie, although being done with the same fabric is completely unique and may have a slightly different pattern from the one in the photo.
Each is made from recycled cotton fabric.