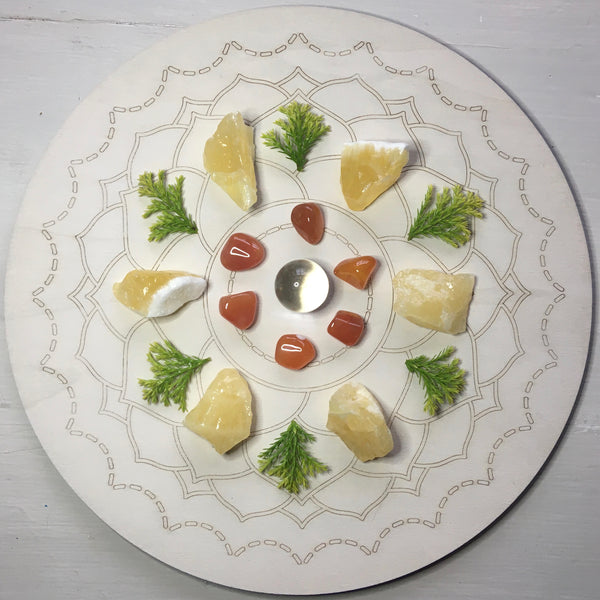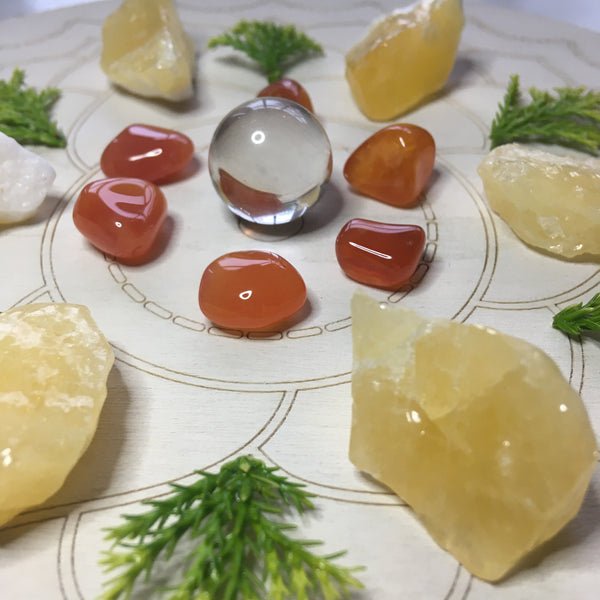 Kanoa Living
Joy, Balance & Creativity Crystal Grid Set
Crystal grids are a lovely way to bring positive energy into your home and to send energy further afield.  We like to make a ritual of creating grids by cleansing the area, grid and crystals and any other pieces you wish to add, light a candle if you wish, set an intention, get creative and enjoy.
These beautiful 20cm wooden boards are finely engraved and lightly white washed with the Lotus Flower design, representing the opening of the Crown Chakra.
Crystals included;
6 pieces of Orange Calcite. Sunshine in a stone!... this calcite brings sense of purpose to the self, a confidence and lightheartedness. Solar Plexus Chakra
6 pieces of Carnelian. This stone brings balance getting rid of doubt and confusion and ignites creativity which in turn brings us joy.  Sacral Chakra
1 Crystal Quartz orb. The Master Healer,  Crystal Quartz helps to balance all Chakras and to amplify the energies of other crystals.
It's lovely to blend some foraged finds from Mother Nature to help the grid be grounded and to give gratitude to her and all that she provides.